Living in a condi is the perfect option if you are looking for a safe and private place, where you can also enjoy amenities without having to go far. However, just as each neighborhood is different, each residential project is also different, and in the case of condos there are many different types. From complexes of more than 150 houses to more exclusive and smaller models, as is the case that we will present later so that you can evaluate if this lifestyle is the best for you.
Advantages of an exclusive and small condominium
When talking about a small condominium it is vital to mention certain differences that make it stand out compared to monumental condominiums. And to exemplify these benefits, we will refer to this 3-bedroom house in the Remanso de Mallorca Condominium, so that you have a clear example on the subject.
But first we must clarify what is an exclusive condominium? Usually developers plan massive constructions within the same lot to take advantage of the space and have more listings. However, some developments focus on creating a more distinctive community, therefore this type of condominium usually does not exceed 20 homes, and in the specific case of Remanso de Mallorca there are only 14 houses.
Privacy and Life style
One concept of condominiums in general is that they are very safe. Think then how this attribute is maximized when dealing with a more closed and exclusive community. For example, there is not only 24/7 surveillance and a registry of those who visit and live on the ground. Also the number of people who enter and leave constantly, is much lower when dealing with 14 families, compared to projects where 100 or even 200 live.
Therefore, it is logical that in an exclusive condominium you enjoy a more peaceful, private and safe lifestyle. Along the same lines, another benefit comes from the opportunity to get to know and live more with their neighbors, something very typical of Costa Rican culture and which in general is very good for their social life.
Amenities
Although the common areas are usually similar between projects – gym, pool, ranch, etc -, the use that is given to them in an exclusive condominium is much better. It is simple, the less people, the less crowds and disorder and the more opportunity for you to enjoy these spaces in peace.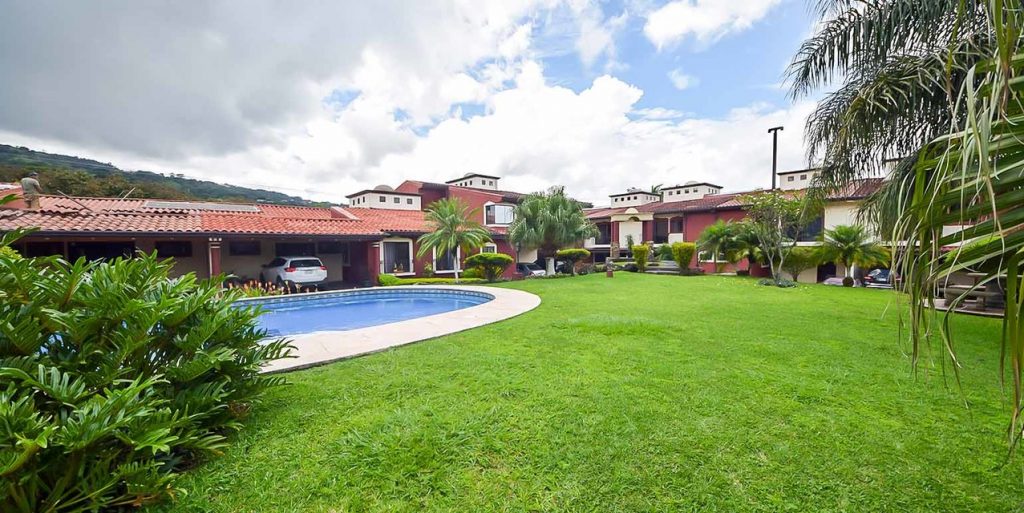 In the case of this property, the maintenance fee is what will allow you to enjoy the outdoor pool with green areas and ranch. Perfect for a barbecue and friends celebration, a morning picnic with the family, or just a refreshing dip. The good thing about having access to these amenities is that it adds a bonus to your home and there are no excuses to adopt a healthier and more active life.
Price
Now, of course, a property like this requires an investment. What makes this listing stand out from the other homes, even in the same residential area, is its competitive price of $ 193,000. It is usual for a house with attributes similar to this – three bedrooms and 3 bathrooms, utility room, terrace, dining room connected to the garden, etc – within a condominium, to approach more than $ 250,000! So taking advantage of this opportunity could be a very wise decision.
Not only does it include the aforementioned advantages, but this property is a very attractive option for small or medium-sized families who want to get their own home. It has a good distribution of private areas, with 3 bedrooms and 3.5 bathrooms. But at the same time it has common areas for everyone to enjoy, such as a TV room, dining room and the covered terrace with a bar that connects to the garden. It's the perfect cozy space for family gatherings, celebrations, game nights, whatever you can think of!
And on the other hand, it also has a utility room, laundry, storage room and parking for two cars.
In general, if you have a budget already defined and you are interested in investing in a condominium house, this property may be more profitable than negotiating the purchase of a house in a project with more homes.
Location
And finally but definitely not least, this house has a strategic location, being in Brasil de Mora it has good proximity to shopping centers, Route 27, restaurants, Proximart and other supermarkets. Which facilitates the access that you may have to basic necessities as well as entertainment and travel options to different areas of the country.
Currently options like this can be rare to find and if you determine that what you want is to live in an exclusive condominium, ultimately you cannot pass up this listing, at least to contemplate it within your purchase options.