Investing in Airbnb is a new business model that attracts multiple investors from all over the world, since there is a high demand for tourists looking for accommodation every minute. According to Airbnb, apartments and houses are the types of properties most sought after by travelers, as they provide space for both families and couples. In addition, most of these are located in condominiums that offer amenities such as swimming pools, gyms, terraces, and other social spaces that the users can take advantage of.
Is it advisable to invest in Airbnb?
For some years, lodging applications have stood in the way of hotels due to their price flexibility. Airbnb allows owners of houses and apartments to rent their properties for a relatively low cost, because they do not have the economic obligations of the hotel sector.
Likewise, at an operational level, it is easier for Airbnb to recover and offer the hosting service. It is enough to upload the offer to the app again and be able to respond to the demand of the sector. The better the option that you as an owner offer, the better your profits will be.
This is why it is definitely an excellent investment! The real estate market had a significant rebound in recent months due to the digitization of services and therefore the applications are very powerful channels for attracting customers.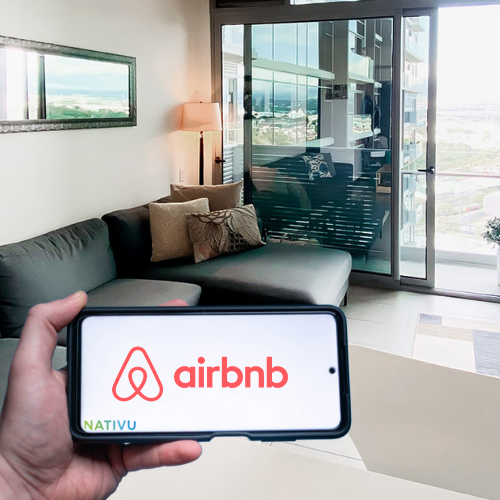 Tips for investing in a property for Airbnb
Capital gain
Depending on the area where the apartment is located, there are many factors that affect the increase in capital gains such as shopping centers, easy access, transportation and security. This is very important when considering renting the property.
Amenities
Some condominiums offer gyms, swimming pools, recreation areas, pet-walking areas, nearby parks and more.
Evaluate the market
There are areas with higher profitability, places where tourists usually rent and other data that will allow you to make an intelligent decision. In Costa Rica, for example, renting in Guanacaste is not the same as in Cartago.
Access and connectivity
Is it easy to get to or from where the property is located? What places does it connect to? Will the tenants you want to attract like it?
This apartment is located in Rohrmoser, one of the most valuable areas of the GAM. It is close to shopping centers and entertainment areas. And it maintains access routes to the west side and downtown San Jose. Being a two-bedroom space, makes it a great rental option for couples or families of three.
For those who love nature, in its surroundings there are several beautiful parks such as "Parque del Café" and "Parque La Sabana". It has a great variety of amenities within the vertical condominium and each of its features guarantee a successful return in case of being used for short term rentals.
This property is perfect to invest in Airbnb because it has a very affordable price; and also the design of the house is modern, so you will not need to renovate anything to be able to put the property into use. In addition to that if the buyer wishes, the property can be sold at a negotiable price, with all the furniture and decoration! So it is a unique investment opportunity. The property is perfectly located as it is in Ciudad Colón, this is good because it is a quiet area with lots of nature and all the necessary convenience stores.
That it is minutes from Escazú and Santa Ana where there is a lot of movement and access to entertainment venues without the need to be involved in the madness of this place. Not to mention that for vacationing it is strategically positioned near Highway 27 to reach any beach, and it is also a convenient distance from the Juan Santamaría airport. Permissions need not be a concern as the house is situated on a separate property, with only a twin house attached to it which would also be available for sale if a buyer decides to make the entire investment. It is a unique opportunity!