The NATIVU team is pleased to announce that a new office has opened in Santa Teresa! Through advisors Korneel and Martjin Glorieux, we look forward to providing new investment opportunities for you to live happy and invest wisely.
Santa Teresa is located in Puntarenas Province and is about 150 kilometers from the Juan Santamaría International Airport. It is located between Playa Carmen and Playa Hermosa in the district of Cóbano.
Santa Teresa is known for being one of the best surfing beaches in the country, with a characteristic relaxed lifestyle that makes all who arrive here fall in love.
The climate in this area is tropical, and the average temperature is around 26°C, with moderate rainfall around the month of October.
Santa Teresa is known as a magical tourist destination with all the necessary amenities to live well on the beach. Despite growing interest in real estate development, this area has found the perfect balance between nature and the city.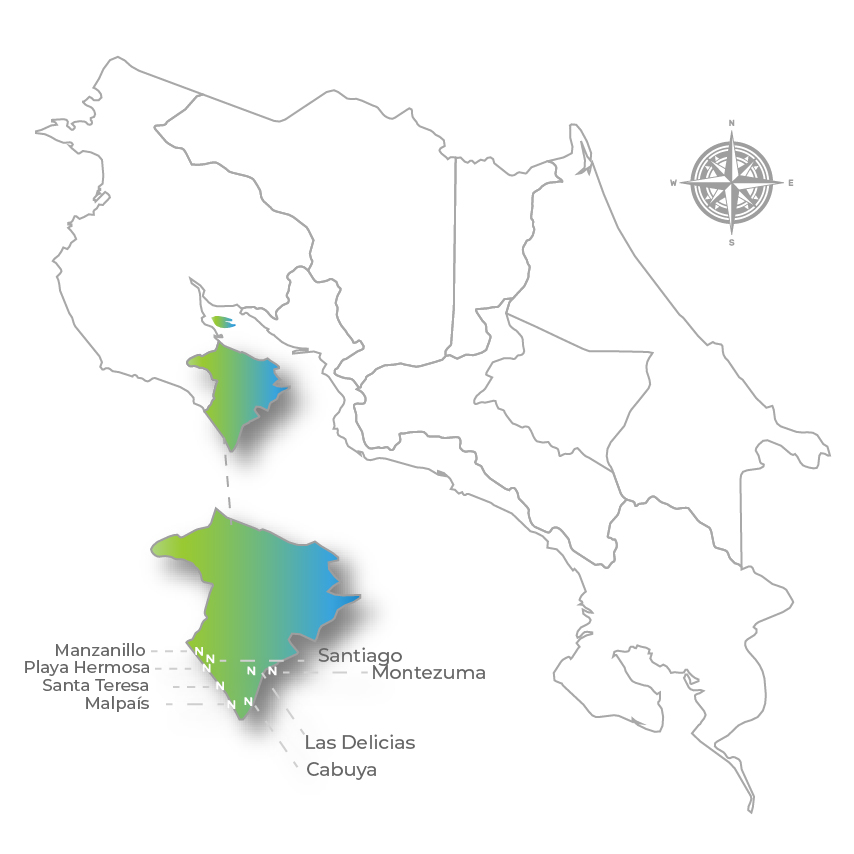 Santa Teresa is known as a magical tourist destination with all the necessary amenities to live well on the beach. Despite having a growing real estate development, this area has found the perfect balance between nature and the city.
About the Real Estate Market
Santa Teresa stretches for several miles along the Pacific coast of Costa Rica on the Nicoya Peninsula. The area is subdivided into several different beaches and areas, including amazing surf spots, ecological conservation areas and national parks, real estate, land, and small beach towns, each with their own distinctive features.
A wide variety of options can be found in the area, from stunning beachfront luxury homes above $10 million to small parcels surrounded by nature or even limited ocean views for under $100,000. It is a developing market with a beach atmosphere and a growing community of locals and expats.
Sub-zones of Santa Teresa
Playa Hermosa: A paradise of white sand and turquoise waves perfect for surfing. It is a few kilometers from Santa Teresa and has earned an Ecological Blue Flag, making it one of the cleanest beaches in the area
Tambor: This is a town at the southern end of the Nicoya Peninsula surrounded by commercial investment options. The growing real estate market here is characterized by fresh design and nature included in every detail.
Manzanillo of Cóbano: This is one of the most charming beaches in the area and is characterized by its crystal-clear waters and white sand. The area has real estate and hotel developments that maintain a constant flow of tourists throughout the year. When the tide goes out, natural pools appear which are perfect for snorkeling, swimming, and enjoying marine fauna.
Montezuma: Located 11km from Santa Teresa on the south coast of the Nicoya Peninsula, Montezuma is a small but vibrant community surrounded by nature, foreigners, and locals who share in the same bohemian lifestyle. It has real estate options for those who enjoy simplicity, with varied cuisine, local businesses, and access to nature reserves such as Cabo Blanco and the Montezuma Waterfalls.
Malpaís: A small town in the north of Puntarenas that has approximately 6 km of coastline, this town is known for its rich biodiversity. Although it is less developed than Santa Teresa, it also offers options for a variety of architectural styles and nature lovers. It has natural tide pools, access to protected areas, and options for diving, fishing, kite surfing, and more!
New Nativu Office!
Our new NATIVU office in Santa Teresa is headed by Martijn and Korneel Glorieux. These brothers from Belgium have been part of interesting projects in the area, and are now bringing their expertise to real estate. By joining us and starting this new office, they look forward to connecting customers with the many amazing properties and investment options the area has to offer.
With their experience and knowledge in the area, they know what it takes to help you find the house of your dreams in the most magical place on the south coast of Costa Rica. If you are interested in contacting them, you can do so directly here.
How to get to Santa Teresa?
By land:
To get to Santa Teresa (if you are coming from San José) you must drive along Route 27 for approximately one hour and thirty minutes until you reach the city of Puntarenas. From there, you board a ferry to cross the Gulf of Nicoya to Paquera. Ferry schedules depend on the season, so it is important to check them before starting the trip. From where the ferry leaves you in Paquera, a drive on the main road for about 8 km leads to a crossroads before the beach, where you turn right to get to Santa Teresa.
By Air:
You can take an internal flight with incredible views of the Gulf of Nicoya from the Juan Santamaría International Airport to the Tambor Airport. This lasts approximately 25 minutes, and several airlines offer options with daily schedules.
From Tambor, you must travel by land for about 35 minutes until you reach your lodging place in Santa Teresa.
You can rent a car or take a taxi for the final leg, as the distance is just over 26 kilometers.
By bus:
From San José there is public transportation that offers a trip of approximately six hours to Cóbano and costs less than $15.
The ticket usually includes the price of the ferry, but make sure to ask beforehand. From Guanacaste there are also bus options to get there in less than two hours. Once at the intersection of Playa Carmen in Mal Pais, where the connecting bus from Cóbano leaves you, you can take a taxi, and in some cases walk, to your accomodation in Santa Teresa.
Our specialists in the area are residents and thanks to this, they know the ins and outs of the local real estate market. If you are interested in investing in property in Santa Teresa and living in harmony with nature and surrounded by peace, do not hesitate to contact our NATIVU advisors.