The western area of the Costa Rica Capital City has everything you need to live comfortably. The location, easy access to routes and highways, warm climates, communication with surrounding areas, shops, health centers, schools and the great added value, are some of the benefits of investing in properties in Escazú, Santa Ana , Rohrmoser and surroundings.
The Nativu Escazú y Santa Ana office provides advice from La Sabana to Ciudad Colón and this is all you need to know about the area before buying properties in Escazú, Santa Ana and Rohrmoser.
The Greater Metropolitan Area of Costa Rica (GAM), is the main agglomeration of the country and here are the most urbanized and economically active areas of the country.
Escazú
It is the first district and head of the canton that bears the same name. Is located in the western side of San José. Over time, this city has managed to combine a high social and economic development with the modernity and exclusivity  that only this area offers.
It has an estimated population of around 14,000 inhabitants  and a total area of 4.38 km2. It has a tropical climate, so throughout the year, the temperature varies between 17ºC to 28ºC.
Santa Ana

Santa Ana is a canton and has four other districts in addition to its head: Brasil, Piedades, Pozos and Salitral. It has a total area of 5.4km2 and is characterized by a high rate of urban and commercial development. It also stands out for having the highest Human Development Index in the country.
This district acquired the title of city in 1970 and has an estimated population of 60,000 inhabitants.
In this area, temperatures vary between 18ºC to 29ºC. It is located on the intervolcanic plateau of the Central Valley so it is sunny and hot most of the year.
This canton is predominantly urban, however it has flat and other mountainous reliefs that create favorable conditions in terms of water sources.
Rohrmoser
Belongs to the Pavas district, in San José and is considered a perfect place to live due to its privileged location in the center of the city. Very close to the La Sabana Metropolitan Park, a 72-hectare recreational area and the largest urban park in the city.
On average the climate range between 17ºC to 27ºC; It is predominantly dry and partly cloudy, which makes it cool throughout the year. This area has been widely developed in recent years so it allows a perfect lifestyle for families and city lovers. It has extensive options of housing projects, educational centers, shops and much more.
Thanks to the experience of working and living in the area, the NATIVU Escazú & Santa Ana team made an analysis of each area, to recommend the one that best suits the client, according to their interests and needs:
Real Estate Developments and Independent Properties
In the case of independent properties, there is a variety of houses of all sizes and for all tastes. Condominium living is another options with many benefits. Whether you decide to invest in condominiums with houses already built or to built inside one; this lifestyle is highly coveted in the western area.
This model of housing is designed so each member of the family finds a space to coexist and develop in the best way. Depending on the area in which you want to invest, the types of condos vary.
In Escazú
The condominiums are integrated into more familiar spaces such as Jaboncillos; where there are options like Cortijo San Miguel, Rosablanca, La Hacienda, Pamplona, Vista de Oro, El Poró, Vistas de Escazú, among others. In the Guachipelín Sur area: Cerro Alto, Cerro Real and Villas de Valencia Condominium; While in Guachipelín Norte you can choose Río Palma, El Tejar, Residencial Loma Real, Residencial Pinar del Río, among others.
In San Rafael de Escazú there are options such as Escazú Village, Avenida Escazú, Altos / Torres de Mayorca and Tirreno. And in the San Antonio area; Terralta, Riveras del Monte and Déndera to mention a few.
In Santa Ana
In this area there are many spaces with extensive real estate developments such as Avalon, Hacienda del Sol, Hacienda Paraíso, Fuerte Ventura, Santa Ana Hills, Santa Ana Flats, among others.
In Rohrmoser
There are some important condominiums in places like Nunciatura, around Parque del Café or Parque del Perú. Real estate complexes that stand out are Altos de Nunciatura, Vistas de Nunciatura, Elysian, Hyde Park, Gardenia, Le Park, Cosmopolitan Tower, Torre W, Nunciatura Flats, Torre One, Qbo, among others.
By being an area with high economic development and great investment, the living costs are higher than in other areas of the country. However, the wide commercial options, educational centers and other amenities that the west area offers, boost its exclusivity as well as the convenience of finding everything in one place.
Below, we show you a table of approximate monthly costs for a family of four residing in Escazú, Santa Ana or Rohrmoser developed by the NATIVU Escazú & Santa Ana team according to their experience and knowledge in the area: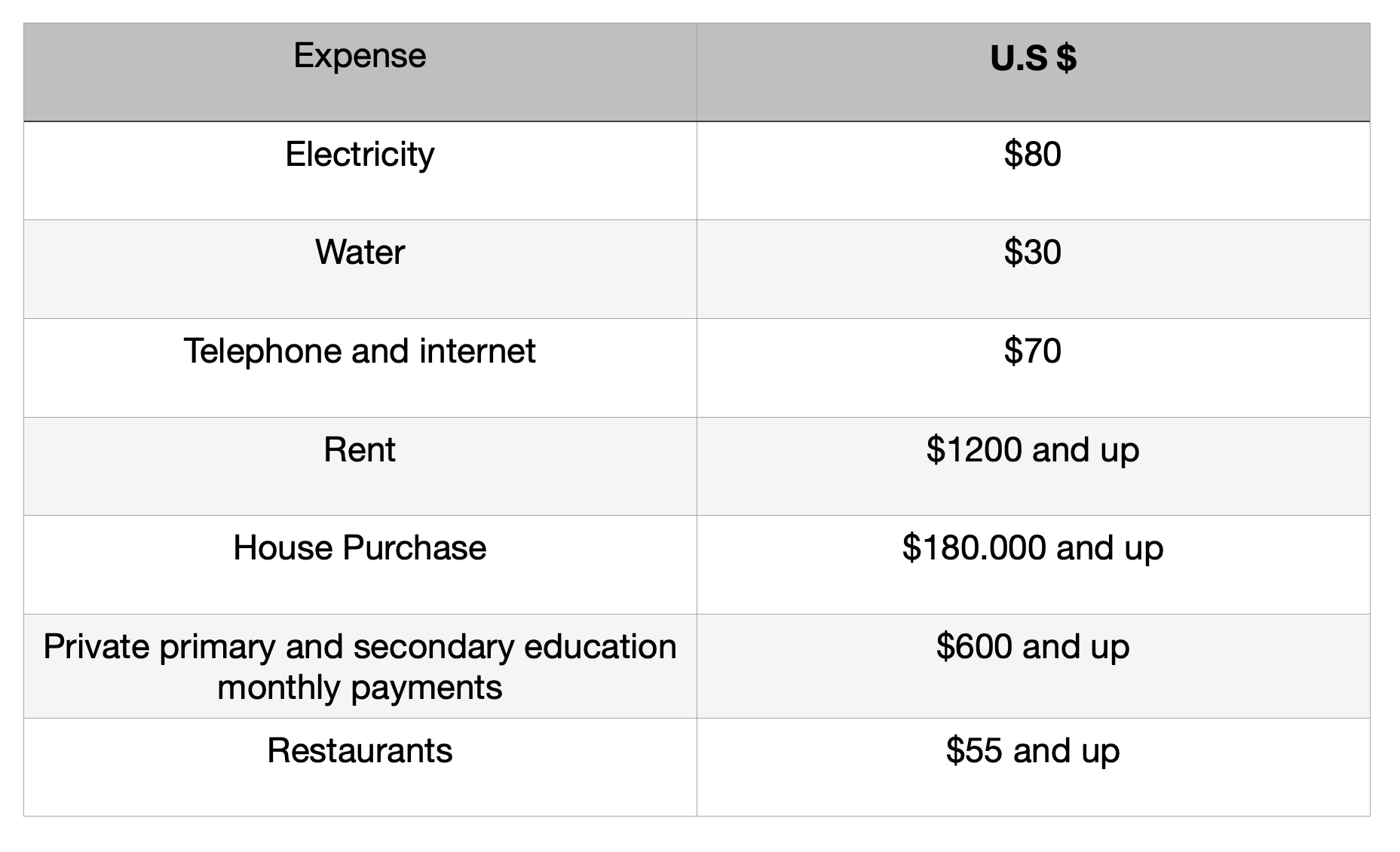 Advantages of living in the West Zone
Tropical climate all year
Temperatures between 17ºC to 27ºC
It is one of the favorite characteristics when investing
Wide variety of options in all types of shops
Local investment sources
Exclusiveness
It is in the heart of the GAM
Access to all main routes
Easy mobilization anywhere in the country
There are some of the best private schools in the country
It has options for all types of budget
Bilingual and trilingual educational centers
Great capital gain in the real estate sector
Wide range of options in condominiums for all types of tastes
Exclusivity in independent properties throughout the territory
Closeness to all areas of the GAM
Easy access to Route 27 and other main roads in the country
Accessibility to mobility to anywhere in the country
This information on what to expect from the Wester area is far from complete. These cantons offer unique opportunities and variety for different interests.
All the advisers in the area represent properties in the real estate developments mentioned before, so do not hesitate to contact our advisors, if you are interested in buying properties in Escazú, Santa Ana, Rohrmoser or its surroundings.