Moravia is a canton located in the northern area of the province of San José, Costa Rica, and belongs to the Greater Metropolitan Area. Their name comes in honor of the Meritorious of the Homeland, former president, hero and national liberator Juan Rafael Mora Porras. Since there was already a canton with the name of Mora, it was changed to Moravia on July 31, 1914 by the Constitutional Congress of Costa Rica. Its head is the district of San Vicente, with category of city.
Moravia is canton #14 of the province of San José. Is bordered on the west by the cantons of San Isidro and Santo Domingo, on the southwest by the canton of Tibás, on the south by the canton of Goicoechea and on the east and north by the canton of Vázquez de Coronado. Has a territorial extension of 28.62 km². It is made up of the districts of San Jerónimo, San Vicente and Trinidad.  The canton has 61 148 inhabitants, according to the latest population projection of INEC.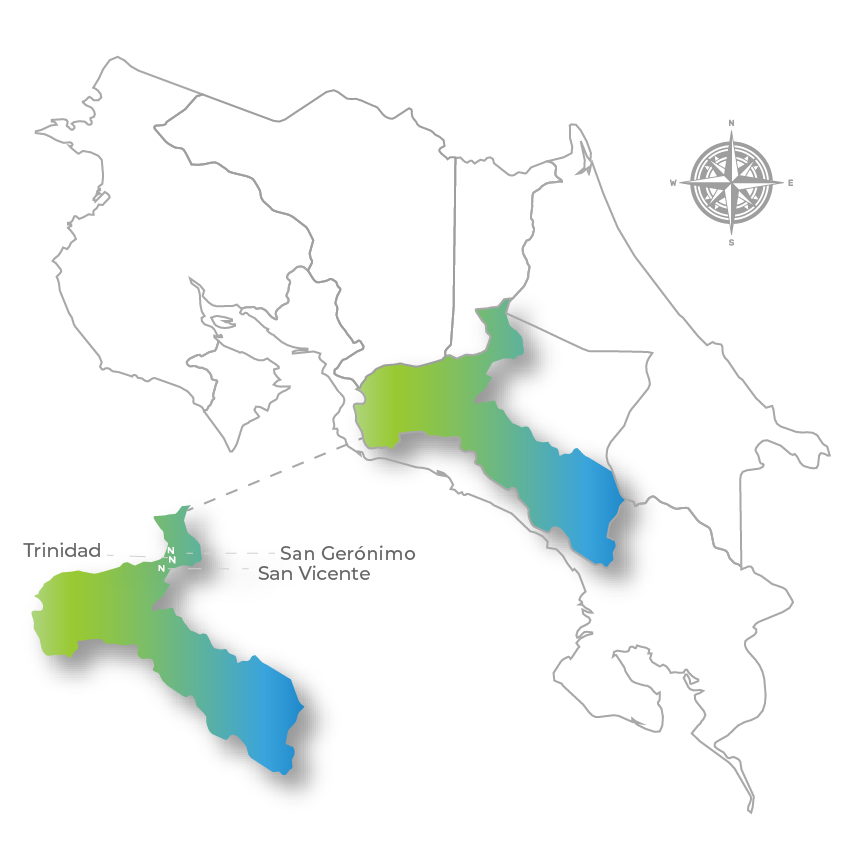 The canton is characterized as one of the most developed in the province of San José and the country, with a Human Development Index of 0.900, classified as very high. It stands out for its high production of handicrafts and for combining an old style with a modern style in its cities.
Its climate is usually windy and humid, this being an area of entry of the trade winds from the Caribbean Sea, which are directed towards the Central Valley.
Moravia is a canton that has had a great economic development. It maintains long residential neighborhoods, the street of handicrafts, the proliferation of supermarkets, bars and restaurants, and a mall like Lincoln Plaza, which opened in 2012.
Its economy is mainly based on tertiary development, which is the services (health services, financial, education and transportation) with 82.2% and far below with 16.1% the secondary sector which is based on industries and raw material companies.
Moravia is a canton with literacy level of 99.2%, with an average schooling of 11.1 years. It has a life expectancy of 81.4 years.
It is a canton where handicrafts are very important. Its church highlights this with its architectural design of semi-gothic style, which was brought from Germany. It has a metal structure which gives it great beauty.  It is famous for its milk production. In the district of San Vicente is the famous Calle de la leche, a street in the center of the district full of dairy products and stores selling handmade crafts.
In the academic offer, it has a great variety of educational centers, both public and private. More than 25 complexes between schools and colleges. There is a Technical College for further professional preparation.
There is the Health Area of Moravia and you can also go to the main hospitals of the province of San José.
Moravia has multiple investment zones both commercial and residential. Its proximity to Guadalupe and Tibás means that it is also an important transit route, but with several known anchors.
Thanks to the experience of working and living in the area, the NATIVU Moravia team made an analysis of each area of this canton, to recommend the one that best suits the client, according to their interests and needs:
Moravia Centro:
The center of the canton still offers some residential areas. However, it has a high concentration of mixed-use and commercial spaces. Prices for this type of property are higher due to the variety of uses for which the property can be used.
San Vicente:
The area of Los Colegios, including the area of La Guaria, Lincoln Plaza, and surrounding areas, were traditionally sought after by families. This is due to the proximity, among others, to Saint Francis School, Colegio Sion, and the easy access to Club La Guaria. In this area there are many small condominiums and independent houses.
La Trinidad:
Starting from Moravia towards La Trinidad, there are some new condominiums and more free zone. There is a high rate of residential concentration, this is due to the even cooler climate that prevails in this area, which appeals to many people. In the district of La Trinidad you will find varied populations that with multiple access also connect towards Guadalupe and more rural areas.
San Jerónimo:
This can be placed as the most picturesque area of Moravia, with many mountainous areas and views towards the Central Valley.  At some point the line between Moravia, and Coronado is mixed creating large areas with farms, quintas, and residential neighborhoods that tend towards a more rural space.  This area is located adjacent to various parts of Coronado and even the center of this city, San Isidro and Santo Domingo de Heredia.
Cost of Living in Moravia
The cost of living in Moravia fluctuates by area, although it tends to be unified with the rest of GAM.  Some areas to the west, heading towards Coronado, have more of a focus on local businesses and perhaps a bit more community, but the cost of living remains similar.  Moravia ranks in the top ten in the Costa Rica-wide canton indices. This reflects the social well-being of its inhabitants.  Moravia ranks 8th in Costa Rica's Cantonal Human Development Index, out of a total of 81 cantons.
Moravia's economy revolves around local commerce, some manufacturing companies, and its easy interconnection with the entire eastern metropolitan area.
Below is a table of monthly costs for a family of four living in Moravia developed by the NATIVU Moravia team based on their experience and knowledge of the area:
| Expense | U.S. $ |
| --- | --- |
| Electricity | $60 |
| Water | $25 |
| Telephony and Internet | $60 |
| Rental | $850 |
| Purchase of house | $180.000 |
| Private elementary and high school tuition | $400 |
| Restaurants | $70 |
Benefits of living in Moravia
Easy access to the city and services with a good road network and public services.
Also, easy connection to San José, Guadalupe and Tibás.
Proximity to the roads to Heredia and Limon, to reach the Atlantic coast.
From the center of Moravia you can already perceive a cool climate compared to downtown San José or the west.
Going from Moravia towards Coronado offers larger lots with views of the Central Valley.
Excellent academic offerings.
Variety of private and public schools and colleges.
Several universities.
Easy access to educational centers in the east of San José.
Access to all types of services, supermarkets and entertainment.
Availability of telecommunications, health and commercial services.
Public services with the same quality provided in the central areas.