Home of more than 65 of the almost 300 beaches in Costa Rica, Guanacaste is one of the most recognized provinces for attracting many expatriates and international tourists to enjoy the paradisiacal landscapes that this area offers. Known as the Gold Coast of Costa Rica, this province offers numerous home buying and investment opportunities for any type of lifestyle or preference. Below, we explain everything you need to know if you are planning to buy properties in Guanacaste.
Guanacaste is the warmest and driest of the seven provinces of Costa Rica. With a population of about 400,000 people, it covers the entire northwestern section of the country, bordering the Pacific Ocean and the country's northern neighbor, Nicaragua. It is the most sparsely populated region in Costa Rica, covered with open pastures, protected parks and tropical dry forest.
Before July 25, 1824, the region was part of Nicaragua. The Annexation of Guanacaste happened as a result of the people's election, and today the people who live in this region are known as "Guanacastecos." The decision to leave Nicaragua and become part of Costa Rica has long been recognized as a symbol of Costa Rica's strong democracy, and people are proud to celebrate it.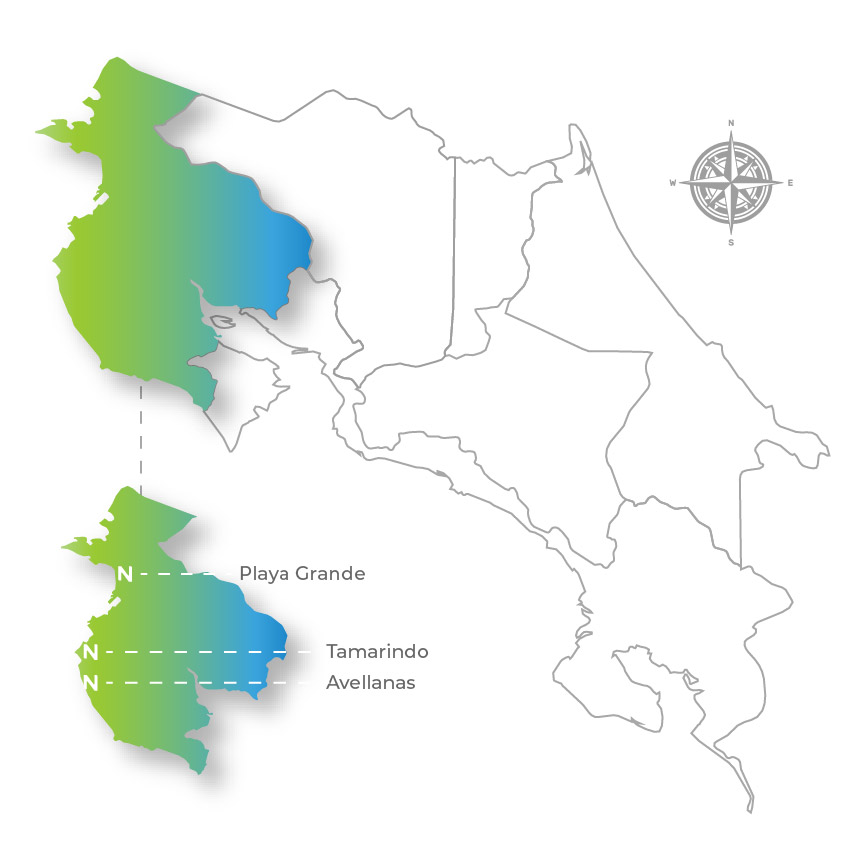 Among the most popular beach communities for expats in the area are Playas del Coco, Flamingo, Tamarindo, and Nosara. These communities offer amenities for daily living, business opportunities, infrastructure, and a natural center for fun activities. The coast is also dotted with many emerging cities. And you will find American and Canadian expats almost anywhere in Guanacaste.
Costa Rica only experiences two seasons, rainy and dry. In Guanacaste, these seasons tend to be the least dramatic, with mostly hot and dry weather and sunshine almost every day of the year. While temperatures can exceed 90 F and occasionally drop to 70 F at night, average temperatures range from 80 F to 90 F throughout the year.
Even during the rainy season (May to early November), it is rare for it to rain every day and equally rare to have a day where it rains the entire way. The Guanacaste region most commonly offers days that start out sunny, with occasional tropical rains in the afternoon or evening. The rainiest months here are September and October.
Residential Communities
In the north of Guanacaste there are several very attractive closed residential areas, especially for foreigners who come to live in this part of the country. The three most searched communities are:
Reserva Conchal

It is a community located in Playa Conchal and has a large number of amenities for its inhabitants. Within the project there are individual large houses, as well as different condominium projects. It has a golf course, clubhouse, gym, trails for hiking and mountain biking, but its main attraction is the white sand beach where it is located, definitely one of the most sought-after communities in the area.

Ventanas de Playa Grande

One of the newest communities. Located on the outskirts of Playa Grande National Park, it has become a family destination for both foreigners and Costa Ricans. This community features houses with modern tropical architecture on large lots, within 150 hectares of land with incredible views and unmatched flora and fauna. Playa Grande is only 2 kilometers away, a golden sand beach with crystal clear water and waves for surfing all year round.

Hacienda Pinilla

This residential is located in Playa Langosta and Avellanas, it is one of the communities with more extension where colonial architecture predominates. It is definitely one of the most exclusive places in the area, it has a beautiful oceanfront clubhouse, golf and tennis courts and vast green areas.
Oceanfront
Being able to have an oceanfront property in Guanacaste has become something very exclusive. The prices of these properties have skyrocketed, especially for those properties that are titled and not concessioned. Among the beachfront properties that investors are looking for are in Tamarindo, Playa Langosta, Flamingo and Avellanas. In the last three years we have seen true architectural jewels come to life in front of the sea
Hotel and business properties
During the first months of the pandemic, hotel and home rental businesses suffered the most. Many investors saw it as an opportunity, so the sale of this type of property has increased in recent months since rental prices have doubled compared to 2020, there is a shortage of long-term house inventory, and high demand that has inflated prices on the coasts, the annual returns are very good for investors at this time.
Not so populated beaches
There are still some amazing beaches that are kept a bit "secret". These are mainly south of Playa Avellanas and between Conchal and Playa Grande. They are white sand beaches, crystal clear waters and often difficult to access in the rainy season. We are still enjoying these gems with few tourists, although the secrets of Guanacaste are less and less.
Investment
There are many investment opportunities in Guanacaste, especially in the area of services and construction. During 2021 the number of foreigners who have come to live on the northern coasts has been massive. Many fleeing cities and conglomerations and seeking a better quality of life in times of pandemic. Many are large families seeking new services and investments to form a new life in our country, the opportunities are enormous for everyone.
Cost of living in Guanacaste
If you plan to buy properties in Guanacaste, you will be interested in knowing the costs of living in this area. In the following table, we show you the monthly costs for one person residing in Guanacaste that the NATIVU Guanacaste team prepared according to their experience and knowledge in the area:
| Expenses | U.S. $ |
| --- | --- |
| Electricity | $70 |
| Water | $20 |
| Telephony and internet | $50 |
| Rent | $800 – $1,500 |
| House purchase | $120,000 |
| Monthly primary and secondary education | $600 – $1,000 |
| Restaurants | $50 |
Advantages of living in Guanacaste
Guanacaste borders the Pacific Ocean, which is one of the greatest benefits of the area, since it opens the door to different activities such as fishing, diving, surfing, snorkeling, kite surfing, among others.

Seeing and hearing the waves crash close to the shore gives a feeling of happiness and peace.

Spending a few minutes in a salty environment on a daily basis offers great benefits for your skin.
Rincon de la Vieja National Park

Barra Honda National Park

Las Baulas National Marine Park

Tenorio Volcano National Park
Conchal, Danta, Avellanas, Dantita, Sámara, Nosara, Flamingo, Tamarindo, Hermosa, Penca, entre muchas más.
This is one of the main characteristics of the province since it is recognized for its hot and dry climate, with sun almost all year round.
In Guanacaste you have access to all the amenities that the city offers but surrounded by nature and with the sea in its vicinity. A perfect balance for those who enjoy the coast and its benefits.
If you have questions about buying properties in Guanacaste, do not hesitate to contact a NATIVU advisor to provide you with important details to keep in mind and simplify the purchase process. Click here to return to the Costa Rica property buying guide home page.