Despite its small size, this province is rich in incredible landscapes and long-standing colonial legacies. It was founded by the conqueror Juan Vásquez de Coronado in 1563, who reported that he had "never seen a more beautiful place" and it is not surprising that later the Spanish established it as the capital of Costa Rica at that time. Below, we explain everything you need to know if you are planning to buy properties in Cartago.
(Image of the Turrialba Volcano by Mariam Álvarez)
The province is located in the center of Costa Rica, on the central volcanic axis of the country, without access to the coasts. Its mountainous relief is formed by two mountain ranges: the Central one, where the Irazú volcanoes are found, the highest in the country, and the Turrialba volcano, and the Talamanca mountain range, where the highest hill in Costa Rica, the Chirripó stands out with 3819 meters above sea level.
Regarding the climate, Cartago has a temperate climate, meaning, cool and cold days are interspersed. Due to its geographical position, Costa Rica has microclimates, so it is not surprising to find areas in Cartago with a warmer climate, such as the Turrialba, Cachí and Orosi valleys.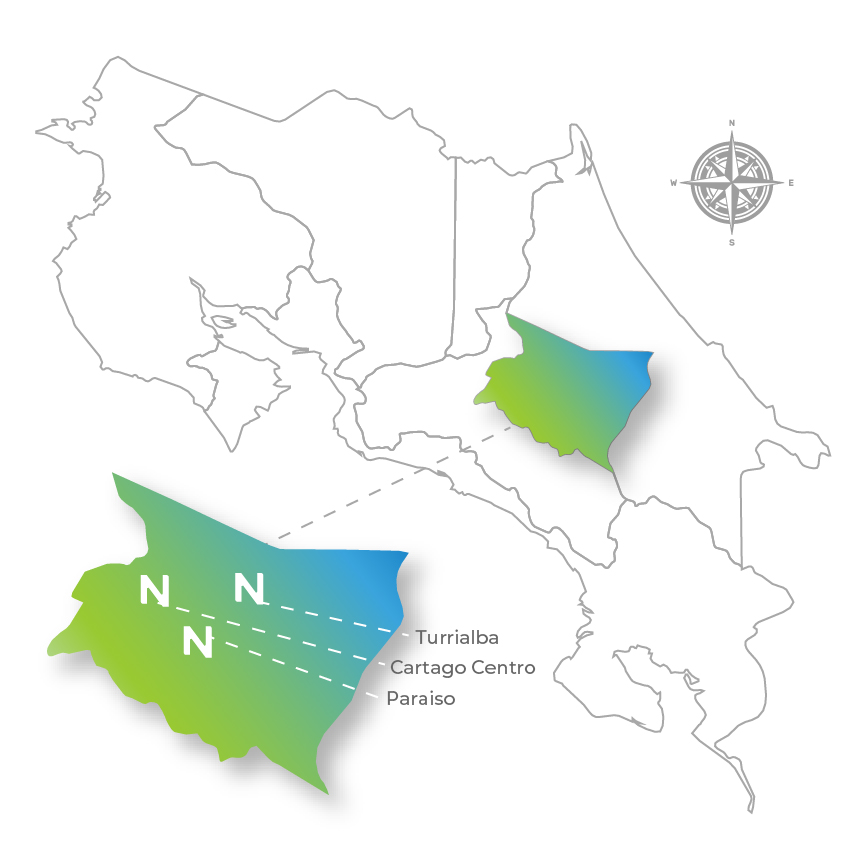 Today, Cartago has a population of more than 150,000 inhabitants and thanks to the fertile volcanic soils and the mild climate, agriculture continues to be one of the most important economic means for the 'Cartagineses'. Likewise, tourism plays a fundamental role in the local economy given the spectacular viewpoints, active volcanoes such as Turrialba and Irazú, waterfalls, hiking trails, National Parks, MTB routes and endless adventure activities such as rafting, paragliding. , canyoning, kayaking, among others. Its proximity to the Caribbean coast and the Cerro de la Muerte, places Cartago in a strategic position to enjoy the beach and mountains.
Cartago is located an hour and a half from the Juan Santamaría international airport, connecting with San José by a highway that is currently being expanded, reducing travel time to other areas for a long time. For these and many other benefits, foreigners have chosen to make Cartago their retirement area, gaining access to the best of both worlds: life in the mountains and in the city.
A relevant fact is that this province has the highest level of literacy in the country. It has numerous educational institutions and universities, being the headquarters of one of the most important engineering schools in Central America, the Technological Institute of Costa Rica.
Thanks to the experience of working and living in the area, the NATIVU Cartago team made an analysis of each area of this province, to recommend the one that best suits the client, according to their interests and needs:
Residential
Are you looking for comfort, quick access to San José, proximity to educational centers, shopping centers, convenience stores and supermarkets? Cartago has it covered in residential areas such as: Tobosi, Corralillo, Quebradilla, San Rafael de Oreamuno, Guadalupe, Paraíso, Tejar centro, Cartago Centro and Dulce Nombre. In these areas you will be able to find houses of various budgets with excellent finishes within secure, classic and modern urbanizations, residential and condominiums.
Recreation and Retirement
You want to enjoy a morning with the chirping of birds, a panoramic view of the mountains, fresh air, taking crops from your own garden and sharing with happy pets. This and more can be obtained in this province abundant in nature, close to all the necessary services to have quality of life. Among the areas that we can mention are: Paraíso, Turrialba, Potrero Cerrado, Llano Grande, Tierra Blanca, Oreamuno and other areas near the Turrialba and Irazú volcanoes.
Agricultural Investment and Ecotourism
If your interest is to invest in agriculture, livestock, farm animals or to alternate this economic category with Ecotourism and Sustainability, you will be interested to know that Cartago is one of the best provinces in the country to invest in a property with such purposes that is currently in vogue. As we mentioned before, this area of Costa Rica is highly fertile thanks to the proximity to the volcanoes, so it is not difficult to find properties with excellent investment characteristics. Among the areas that present excellent options of this type are: highlands near the Irazú and Turrialba volcanoes, Valles de Cachí and Orosi and areas near the Cerro de la Muerte. Likewise, a very important incentive is the properties with hot springs near Coris de Cartago.
Cost of living in Cartago
As it constitutes a robust local economy that is based on agricultural self-sufficiency and the management of water and hydroelectric resources, the costs of living in Cartago are usually lower than in other areas of the country.
Below, we show you a table of monthly costs for a family residing in Cartago of four people that the NATIVU Cartago team developed according to their experience and knowledge in the area:
| Expense | U.S. $ |
| --- | --- |
| Electricity | $75 |
| Water | $25 |
| Telephony and Internet | $65 |
| Rent | From $400 to $1.200 |
| House purchase | From $100.000 |
| Private primary and secondary education monthly payments | From $200 |
| Restaurants | From $40 |
Benefits of living in Cartago
Closeness
One hour from San José
An hour
Half hour from the Caribbean
Between one hour and two hours from Cerro de la Muerte, South Pacific beaches
Nature
Irazú and Turrialba Volcano National Parks
Tapantí and Cerro de la Muerte National Parks
Guayabo National Archaeological Monument
Lookouts for birds, mammals and aquatic life
Sports
Trekking
MTB
Road cycling
Kayaking
Rafting
Swimming, among others.
This is one of the main characteristics of the province since it is recognized for its cool climate.
According to Red Cooperativa Universitaria Universia, the average maximum annual temperature is 26 ºC and the average minimum is 15 ºC.
The cost of living in this province is lower compared to San José.
It has all the necessary services to have a good quality of life.
This information on what to expect from Cartago is far from complete. This great province offers unique opportunities and a variety for different interests. Do not hesitate to contact a NATIVU Cartago advisor if you are interested in buying in this area of the country. Click here to return to the Costa Rica property buying guide home page.