Grecia is a canton in the province of Alajuela, located in the western part of the country. Despite being a canton, it has great diversity in vegetation, economic production and topography. The city was founded in 1867 and has a great order and planning in the administration of the territory, this for many years. In 1989, this place was highlighted for being "the cleanest city in Latin America", during the meeting of the Latin American chapter of the International Union of Municipalities and Powers, in Cuenca (Ecuador).
Image of the center of Grecia by Eloy Suárez
Grecia is the third canton of the province of Alajuela, Costa Rica. It is located towards the center of the country, 20 km northwest of the city of Alajuela. It has an area of 141.52 km² and is divided into 7 districts, which are Grecia, San Isidro, San Roque, San José, Tacares, Puente de Piedra and Bolívar. The population of the canton is 76,898 inhabitants according to the last census.
It is located 27 kilometers from the Juan Santamaría International Airport and 50 kilometers from the national capital, San José City.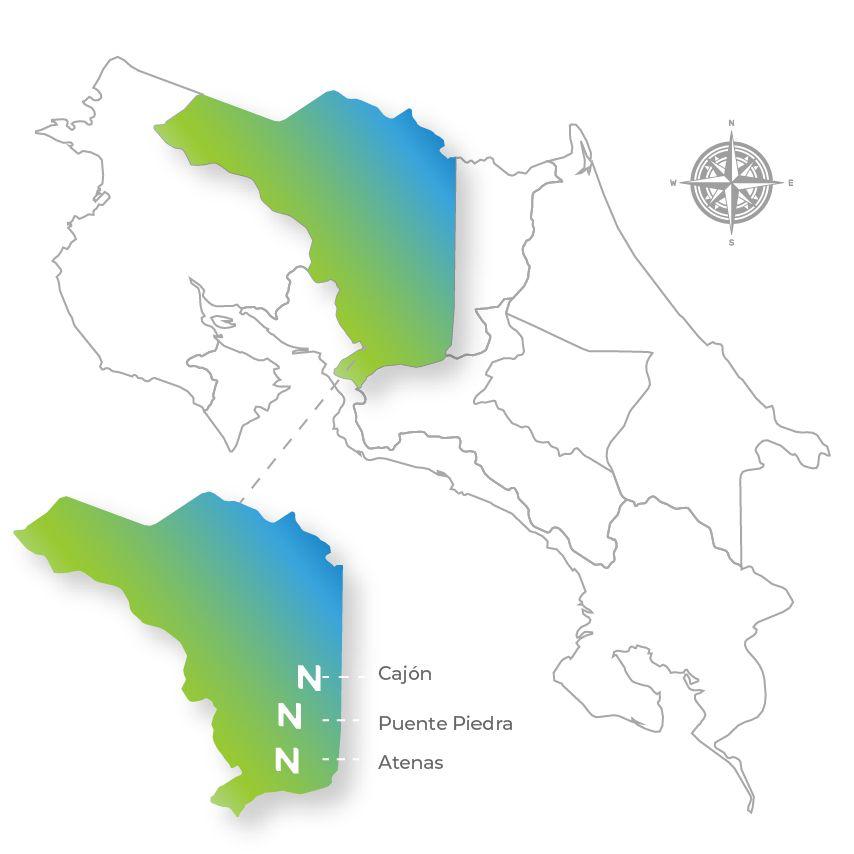 Its climate is humid temperate, between 16ºC and 27ºC, depending on the locality. It is located at an altitude of 1000 m.a.s.l., and the districts are at different altitudes.
At its highest point, at 2,500 meters above sea level, is the Bosque del Niño forest in the Grecia Forest Reserve.
Has a diversified economy dominated by agricultural production of coffee and sugar cane, with the presence of industrial activities related to these crops, in addition to other sectors dedicated to trade, factories and sale of vehicles.
It is also part of the tourist route of the western region of the Central Valley of Costa Rica, given the existence in the canton of spas, waterfalls, protected areas and the Catholic temple of Nuestra Señora de las Mercedes, which is historical-architectural heritage of Costa Rica.
The main health center is the San Francisco de Asís Hospital, a state-run medical center belonging to the Costa Rican Social Security Fund, and is a regional hospital that serves the western sector of the Central Valley. The hospital offers 26 health services, including health care and logistical and administrative support. The Grecia Health Area has 13 Basic Comprehensive Health Care Teams.
Grecia is a canton with a high literacy rate (99%) and a high human development index (0.77%). It currently has 54 primary schools and 10 secondary schools. In terms of higher education, there is a branch of the University of Costa Rica in the district of Tacares, three private universities and a branch of the National Learning Institute. Grecia is the canton with the most professionals per square kilometer as it has been calculated.
Is known for its beautiful red church, dedicated to the Virgin Mary under the title of "Nuestra Señora de la Mercedes". Was built in the 19th century entirely of structure and metal sheets. It is a neo-Gothic style construction, built entirely of iron. Has been declared historical-architectural patrimony and national monument of the country. It is 35 meters high, but its towers reach 45 meters high.
Thanks to the experience of working and living in the area, the NATIVU Grecia team made an analysis of each area of this canton, to recommend the one that best suits the client, according to their interests and needs:
Residential
The canton of Grecia has its head Grecia Centro, which is the largest residential center for those looking to invest in a house. Its multiple options of supermarkets, grocery stores, access to Route 1, proximity to Highway Route 27, and diversity of educational centers make it a great option for those looking for these amenities. Also located are Puente de Piedra, Tacares, San José, San Isidro and Bolívar. The latter is very popular with people who prefer residential options in higher elevations, with a warmer climate and more surrounded by nature.
Agricultural and Industrial Investment
Grecia has characteristics and aptitudes in its climate and soil type to invest in the planting of products such as coffee, strawberries, orchids and sugar cane. Those who wish to invest in this activity can count on the support of CoopeVictoria, one of the most important industries in the area. The places that are most suitable for people who wish to invest in Grecia with this approach are: Tacares, Puente de Piedra, San José, San Roque, San Isidro and Bolívar. Tacares being a low altitude land and more of plains is ideal for the cultivation of sugar cane.
Recreation and Leisure
Due to its abundant vegetation and fauna, Grecia is also characterized for having appropriate places for recreational and leisure investment. San José, San Roque and Bolívar are areas that can bring together everything you are looking for to make a great investment. Watching toucans and other species of birds in the trees, listening to their songs and admiring the green of nature can create a peaceful and comfortable environment.
Cost of Living in Grecia
Its economy is characterized as local, based on agricultural crops and industrial activities related to these crops, as well as other commercial and factory activities. Being an area farther away from the Greater Metropolitan Area, the cost of living is lower compared to the main areas of the country.
Below is a table of monthly costs for a family of four living in Grecia, developed by the NATIVU Grecia team according to their experience and knowledge of the area:
| Expense | U.S. $ |
| --- | --- |
| Electricity | $60 |
| Water | $25 |
| Telephony and Internet | $60 |
| Rental | Desde $600 hasta $1.200 |
| Home purchase | Desde $120.000 |
| Private elementary and high school tuition | Desde $200 |
| Restaurants | Desde $65 |
Benefits of living in Grecia
Proximity
45 minutes from Juan Santa Maria Airport
45 minutes from Alajuela Downtown
About an hour and a half from the Central Pacific.
Nature
Poás Volcano National Park
Los Chorros Municipal Recreational Park
Grecia Forest Reserve Bosque del Niño Forest
Los Trapiches Farm
El Paraíso Waterfall
Variety of mammals, birds and reptiles
Lots of vegetation around town
Sport
Hiking through farms in the area
MTB
Road cycling
Soccer, even has a team in the first division
Basketball
Swimming, among others.
Its climate is hot during the day and becomes warmer at night. In high areas such as the mountains, it is a cooler climate due to the wind breeze.
Its temperature oscillates between 16 ºC and can reach a maximum temperature of 27 ºC.
It can be influenced by the climate of Atenas due to its geographical proximity, a place that is known because many years ago a study placed it as the best climate in the world.
There are 24 public educational centers, including elementary schools and colleges.
Liceo Bilingüe de Grecia: public institution with a very high level of English teaching.
Colegio Técnico Bolívar: students can leave with a technical and academic career preparation.
Great variety of private and bilingual educational centers.
Lifestyle
Because it is a more rural area and farther from the city, the cost of living is cheaper in terms of services and commercial establishments.
Lower cost of rentals and property purchases.
A more peaceful environment, with a calmer pace of life.
More familiarity and better relations with neighbors
It has everything necessary for the establishment of families.
This information on what to expect in Greece is far from complete. This large canton offers unique opportunities and variety for different interests. Do not hesitate to contact a NATIVU Grecia if you are interested in buying in this area of the country.